18 June 2021
Project Focus: How we oversaw multi-million-pound ship refurbishment of St Helena
The former Island of St Helena Royal Mail ship has made many a headline in recent months as she's returned to the waters to become the floating hub of the new world-wide Extreme E electric rally car racing series.
Austen Brunton BEng (Hons) MIMarEST is WYM Group's Technical Project Manager, who oversaw her transformation. Here, he describes how getting St Helena ready for her new owners' sporting adventure and global travels proved an 'incredible 18-month challenge' for both himself and his colleagues.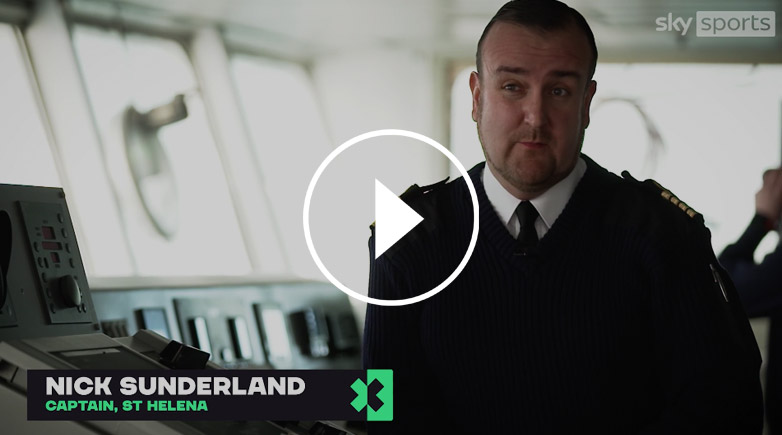 The initial assessment
The first job when managing any ship refurbishment project is to identify what remedial work needs doing and then plan a detailed schedule of work to complete it.
If I am honest, I think we were all a little shocked by the initial condition of St Helena when we first began assessing the work required. Cosmetically she looked fine, but when we started to scratch under the surface, there were lots of issues to be addressed – as is the case with any vessel of age.
Initially, we identified a substantial programme of refurbishment which was required, which actually ran to some 540 pages of work to be completed.
I think there was a realisation for myself and the team at WYM Group that this would be one of the biggest ship refurbishment projects we had ever faced.
Planning the work & choosing a shipbuilder
Once we had the list of works set out it was a case of putting the dry dock work out to tender to ship yards and builders. It was then my responsibility to choose who we were to work with.
We had four different shipyards pitch for the contract but, having assessed them, Cammell Laird shipyard were chosen for the work. I'd worked with them in the past when I was at P&O Ferries, so I knew them well and was confident they were the ideal choice.
On a large project like this, the relationship between us as the ship management company and the shipyard and builders is key. I knew we needed people we knew well, and somewhere where we would be able to react and respond to issues as they arose. We needed a shipyard willing to be flexible and prepared to work outside of the initial scope when required to help us through any unplanned works which arose as we progressed. Cammell Laird certainly gave us that flexibility.
Carrying out vital ship repairs
All mechanical systems were overhauled and the engines were completely stripped with all components renewed or replaced. The propellers were refurbished to reduce friction and improve efficiency. The navigation and communications systems were also improved so the Bridge featured they very latest equipment.
The job was huge but there certainly wasn't an unlimited budget – there never is! Of course, we had a set timeframe to work to as the Extreme E series was dependent on the ship being ready to launch. We then had Covid-19 thrown into the mix and to work around, which added complications.
When you're overseeing a ship refurbishment programme you have to be able to account for and justify every expenditure, so you can demonstrate that you've tried to ensure value for money. That was definitely the case with St Helena – and I'm proud of what we delivered for the costs.
Getting accreditations to sail
Securing all the required certifications which allow St Helena to carry 170 passengers at sea was the final stage of the process.
We had to bring her back to the UK Flag and Lloyds Register Classification Society, but the great team at WYM Group had that in hand. Thankfully, this ensured she was ready to hand over to Extreme E on time for the first race to start in April 2021.
On reflection
It was a huge challenge, but one I feel very proud to have been part of. It's not an exaggeration to say St Helena took over my life for more than a year.
It was a 24/7 job, which initially seemed to be getting bigger and bigger until we got on top of everything and we could see the home straight. At some points, I was dealing with a considerable number of contractors on a daily basis for one aspect or another.
It was so wonderful to see her launch earlier in the year and it's been great to hear the Extreme E team be so complimentary about our work.
If anybody asks us how experienced we are at ship refurbishments and management, we can now point to St Helena as proof of our expertise. We are also managing her journey so she can sail safely around the globe – carrying millions of pounds worth of racing cars and their teams – under the glare of the watching world. We all take great pride in that.
About the author
Austen Brunton MIMarEST is WYM Group's Technical Project Manager and primarily responsible for the refit and new build project management of shipping fleets.
He has Bachelor's degree in Mechanical Engineering, a Class 1 Motor Unlimited COC and vast seagoing experience on a diverse range of vessels from D.P Survey and ROPAX to large container vessels.
Having been a Chief Engineer, Austen has also held Senior Managerial positions ashore for P&O Nedlloyd, AP Møller - Mærsk, Sultanate of Oman Royal Yacht Squadron and P&O Ferries, with responsibilities that involved the building and repair of vessels.